This time, the magic number is 10. Yes! We're releasing 10 more PRO demo designs for you to enjoy. As a quick reminder, a PRO Newspaper Demo is an entirely developed website, made from ground-up by using tagDiv Cloud Library Templates and the tagDiv Composer page builder. PRO demos are lighter, and your site pages load faster. Starting with the Newspaper 9.8 theme version, we've presented you the new and improved demos, labeled as PRO. Now, in Newspaper Theme 10.3 we're taking this a step further with 10 outstanding full website designs.
All the demos are created by our skilled web designers and represent a fresh source of inspiration. With balanced elements, clean layouts, and vivid colors, a PRO demo shows your content's quality, outlined by impressive aesthetics. Let's take a tour of the new PRO demos that you'll find in your Newspaper theme.

Break the gadgets' and tech websites' monotony with a new, stunning appearance! The Gadgets Pro demo displays the latest news on technology in a modern, minimal look. The demo comes with a stylish mega menu, bold typography in titles and elegant shadows that break the negative space to highlight content. The overall feeling of this demo design is vivid and dynamic.
Recreate the immersive experience of reading your favorite book on your review blog! The Critic PRO Demo challenges your visitors' imagination combining warm with cold touches and borders to create breaks in the design. Give them reasons to come back with wide content on articles merged with impressive visuals for a mind-blowing, surprisingly addictive effect!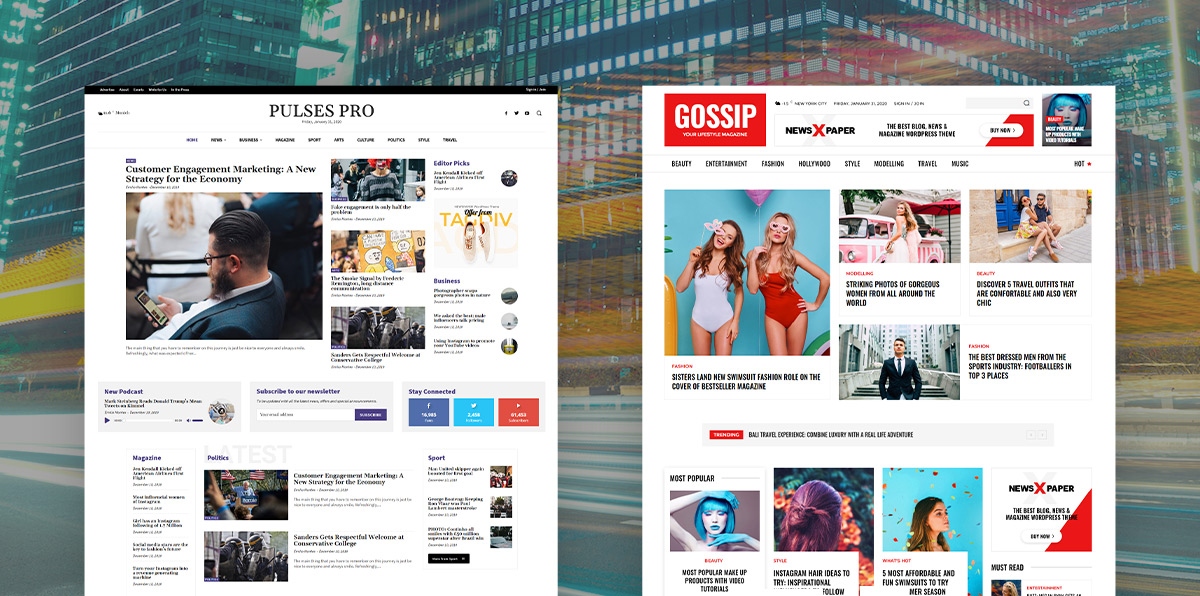 In the month of love, let's explore colors that evoke emotions! The pink Gossip Demo turns red. The Gossip PRO Demo makes it easy for you to break through the noise and reach the heart of your audience. With a modern, sensational, fashion & lifestyle vibe, it's easy to create a website that stands out from the crowd. The Pulses PRO Demo, created for the heavy-loaded content websites, challenges your audience's attention with an elegant contrast between the dark purple accent color with light grays & intense yellow. With cool, overlay block titles for categories and asymmetrical three-column design, everything you need, it's right here, into your theme. Inspired? Start today!
Are you ready to join the websites on the dark side? Discover the elegant black version of Newspaper Theme with orange hues. With all the features you love, the Black PRO Demo is ready to make your website unforgettable. The black, negative space combined with white typography, clean menus, and hues from images creates a modern, spectacular design. Take a look!
Is it the right time to give your website a facelift? Definitely! The Beauty Pro Demo introduces a unique concept in the Newspaper Theme. Stronger than ever visuals, gradients that stun, hover letter-spacing on category names, blending modes, polaroid style on Flex blocks, meta info on hover. These are just a few reasons for you to check out the new Beauty Pro Demo!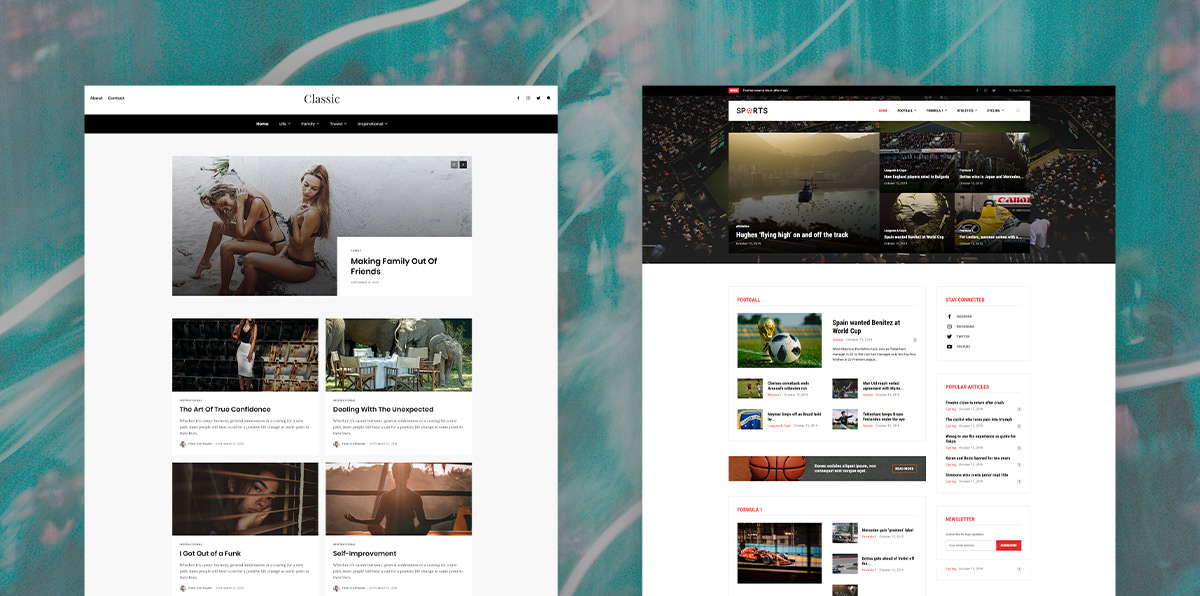 Are you dreaming of a beautiful and engaging design for your blog? We've giving you two professional demos to inspire you. The first one goes back to basics with black and white. Classic Blog PRO is perfect for any blog you have in mind, including family or personal blog. Sports PRO is designed to highlight and emphasize your content using large white spaces with touches of bright red color. Try the demos that bring wide images, bold titles, rounded author images, date, and stylish typography, while keeping things simple.
Whether you're a chef or a foodie blogger, a website is the perfect place to share your passions. So, we've created a fresh recipe for a gourmet blog that promotes specialties using highly appealing visuals. With the delicate green accent color, a spectacular header, and the elegant combination between sans serif & serif fonts, the Gourmet PRO is the right design.
In a full genderless trend, can a website have a gender? The Style PRO Demo is a minimalistic, monochromatic website that skillfully combines large white spaces with dark ones. It balances the black & white typography with grayscale design. The result? You should check out this awe-inspiring, powerful, moody, and almost masculine design!
The magic at your fingers
You have 10 extraordinary new demos to inspire you. However, they can do much more than that. Install the one that makes your heart jump and change the overall design of your website in minutes. Whether you're a beginner, or an advanced user, with the Newspaper theme demos, your site will get all the attention and the appreciation of your audience.
Even more, if you feel like diving into details, you can tweak every aspect of your website. In a few words, the new PRO demos are a great start! Try the spectacular layouts, exquisite typography in a perfect balance to give you the results you are aiming for. The full PRO demo websites have the ideal UX and UI balance. Which one is your favorite PRO demo ❤? Let us know in the comment section below.