Newspaper 8 brings an entirely new experience. It introduces a one-of-a-kind page builder that changes the way you build your website! A variety of new daring demo designs is here to give you even more flexibility. The Big Grids now support full width making your website more visual. Customization possibilities are taken to a whole new level by the Live frontend LESS and CSS editor.
We know you've always searched for the freedom to create the perfect website, in an effortless process that gives you joy and satisfaction. This desire is written in bold, capital letters, between the lines of each question and request sent by our customers. We took Newspaper back to the design board and rebuild it to give you the ultimate Blog, News and Magazine theme. Today, we are proud to invite all of you to discover Newspaper 8!
So, what's new?
tagDiv Composer
We challenged the way you used to build pages. Newspaper 8 introduces tagDiv Composer. It gives you the power to easily create pages directly on the front end of your website. Edit, shape, customize, and adjust each element in a way that has never been possible before. Drag any item onto the page, and you'll see every change happening instantly, right before your eyes.
tagDiv Composer is the first page builder designed exclusively for Blog, News & Magazine websites. Design to be light and fast, this tool brings you unlimited possibilities to experience the freedom of being creative. tagDiv Composer is the most remarkable tool we have crafted since we launched Newspaper theme!
15 New Demos
In Newspaper 8 we improved the theme's flexibility even more. We added a variety of new daring demo designs, carefully crafted for you. Each creative design is here to help you shape the website of your dreams in a heartbeat. Choose from Craft Ideas, Gadgets, Retro Wave, Sound Radar, Church Mag and more 35 amazing pre-made demos and start designing or redesigning your project today! Installing a demo is easy, just one mouse-click and you're done!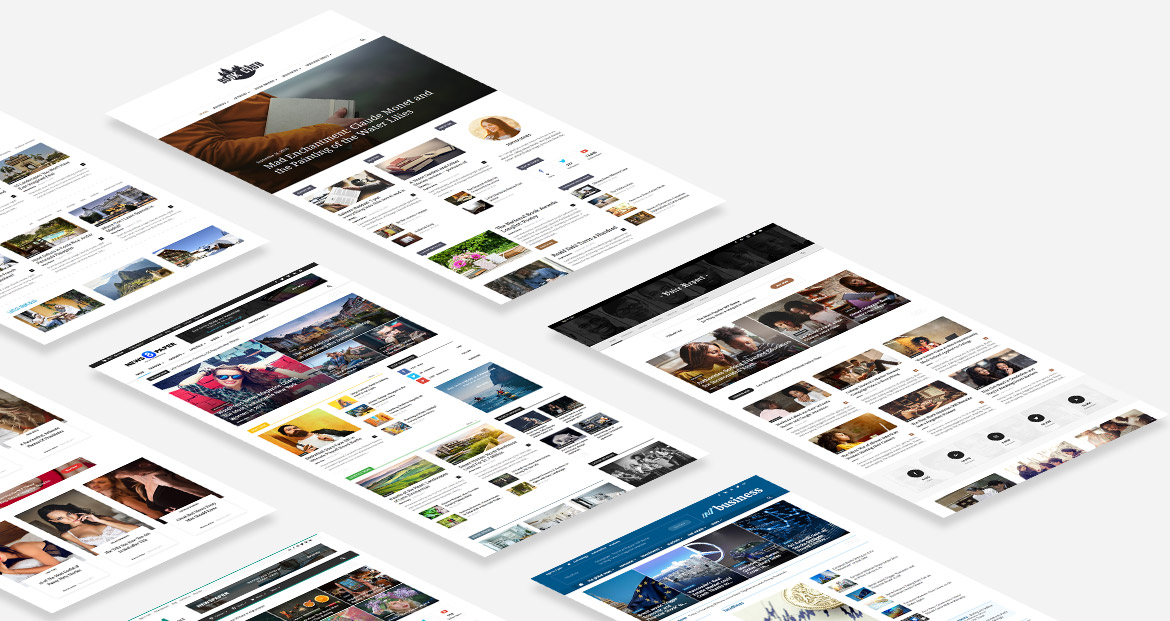 New Big Grids and styles
Your stories are now more visual than ever! In Newspaper 8, the Big Grids come with full width support. We designed them paying attention to the smallest details to give you countless ways to highlight your latest posts or featured ones. Over 20 spectacular Big Grids layouts and 7 wonderful styles are now available, each with its unique animation and feeling. The time when you used complex coding to create a stunning "above the fold" section is long gone. Just add Big Grids on your homepage or the categories top section and give your website a fresh, elegant look. Watch the Video
Live frontend LESS and CSS editor
If you would like to quickly add CSS or LESS on your pages, now you don't need to dive in code or use a third-party plugin. With Newspaper 8, customizing CSS or LESS on the frontend happens instantly, right before your eyes. Take your website to a whole new level!
Version 8.0 – May 24rd, 2017
new: The first page builder ever created for blogs, news and magazine websites is now ready to transform your website. In Newspaper 8 we've added tagDiv Composer to give you a lighter, faster and more efficient way to build your site: right on the front end, easier than ever, seeing every change instantly. Watch the video
new: Live frontend LESS and CSS editor. This allows you to quickly add CSS or LESS quick to any page of your site
new: Lifestyle Magazine Demo
new: Gadgets Demo
new: Craft Ideas Demo
new: Business Magazine Demo
new: Book Club Demo
new: Architecture Blog Demo
new: Retro Wave Demo
new: Fitness Blog Demo
new: Voice Report Demo
new: Art Creek Demo
new: Sound Radar Demo
new: Church Mag Demo
new: Old Fashioned Demo
new: Photo Folio Demo
new: All of the Big Grids now support full width
misc: We revised all the block headers and we added multiple new options for them
misc: We redesigned all the older demos and gave them a modern look, improving every aspect of the demos
misc: Full PHP 7.1 support
fix: Background ad click issues
fix: Password field on mobile phones alignment issues
fix: WooCommerce issues