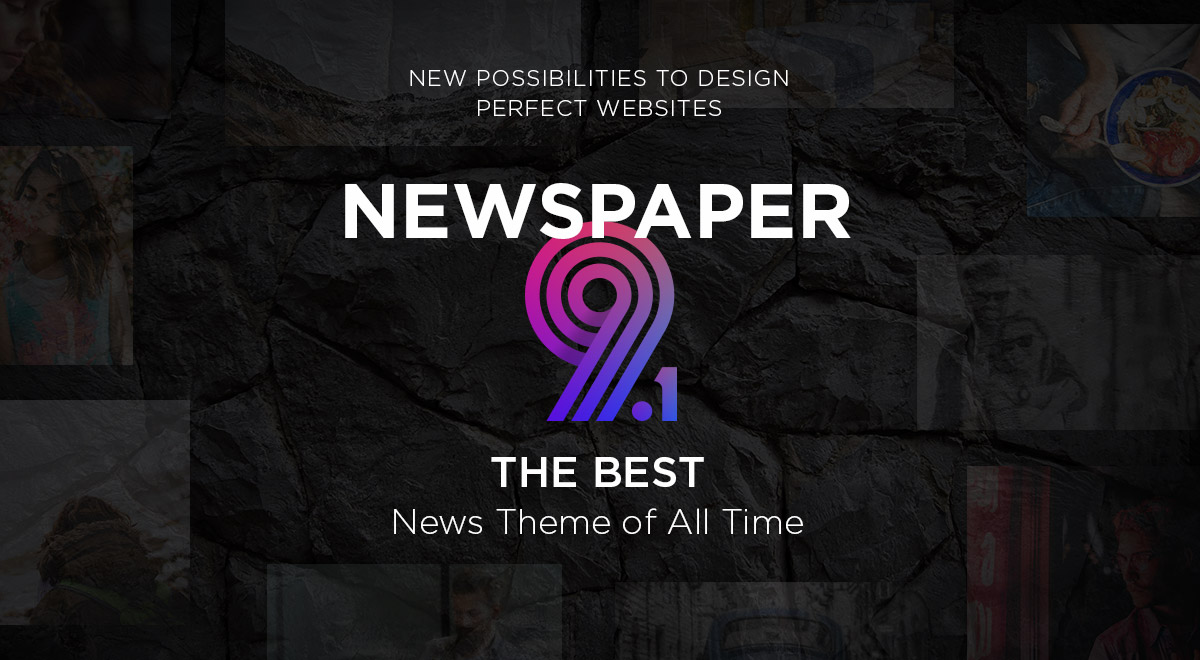 At tagDiv, we are continuously challenging the general opinion on "what is possible" in web design and WordPress functionality to give you the best user experience while building your website. In the last 5+ years, over 76,000 dedicated bloggers, journalists, developers, and entrepreneurs encouraged our effort and made Newspaper Theme the #1 Selling News Theme of all times. Thank you for your support!
We are now so excited to introduce you to a new, incredible update. Newspaper 9.1 introduces impressive Demos to inspire you, innovative tools that empower you to create everything faster and easier on the front end, including new stunning elements & options. Newspaper 9.1 is also a free update for all our customers. If you own a Newspaper License, or you're about to acquire one, all the below features and more are waiting for you.
So, What's new?

7 New Unique Demos to inspire you
Fast start or redesign your website with new and beautiful Demos! Explore the new Entertainment, Living Mag, Fast News, Gossip, Journal, Gaming, and Lifestyle Blog Demos. All of them are carefully crafted by our designers to help you create an engaging specialized website. Every demo is built using tagDiv Composer page builder and templates from the tagDiv Cloud Library. Moreover, you can easily customize everything in these amazing demos from colors, elements, layouts to page structures and everything in between.
Right-click for more power
For the first time in a page builder, we're introducing the intuitive Right-Click contextual menus in the tagDiv Composer page builder! Discover a whole new range of options and a natural way to create pages, articles and design your website.

The New Copy and Paste tools
Replicating an element or section is now stunningly easy. For example, you can move entire sections of the layout to different templates or pages, right on the front-end of your website. Use it on elements, columns, and rows, on the same page or between them. Say goodbye to the old fashioned way of copying items through the shortcodes and embrace the brand new feature for effortless results!
Copy and Paste the Style
Cloning a design element has never been easier. Now, you can right-click the desired one, and the Newspaper Theme does it for you. As a result, everything from design to typography can be applied to a similar element with a single click. Experience this new way of designing your website without touching a single line of code. Explore this feature!
Rewind and fast forward
If you're not satisfied with the changes, you've made, don't waste time to delete the element or section and drag and drop a new one! Newspaper Theme 9.1 brings you the ability to revert an element style to the default design settings. The Reset Style option is available from the Right-Click Menu. Now you can rewind the style in a blink of an eye and fast forward by quickly adding new beautiful customizations.
Save your creative result as an Element
Improve your workflow and reduce the development time by saving the results you're proud of. From the Right-Click Menu, you can save customized elements and rows as predefined ones. Use them later on pages and articles from the 'Add Element' button in the tagDiv Composer page builder. Yes! It's that easy to be productive!
10 beautiful Big Grid Flex elements
We all love Big Grids! Newspaper 9.1 introduces a new concept of Big Grids, giving you the power to customize a delightful element to pixel perfection. The new Big Grid Flex blocks come with various stunning designs and premade styles to, above all, help you make blazing-fast adjustments. As a result, a full pack of options ready to satisfy even the most exquisite tastes on web page design is waiting for you.

More time-saving features
Wait! Read below about other amazing time-saving and creative features, fixes, and improvements to the Newspaper theme that we're bringing to you in Newspaper 9.1 version:
Style Presets for Flex and Category Grids to make your grids even more beautiful
Alert Message box in tagDiv Composer
Option to Duplicate a Cloud template
Post Loop 2 Element helps you create different designs
A series of Used Fonts can be accessed under the Load Font Settings menu
Extra Style options for Recent Comments element
Option to change the Page or Template Name from tagDiv Composer
The List of Used Colors for pickers is now available in the Recent Colors section
What's the next step for you? See the more of the Newspaper Theme wonderful features or the full list of changes.
We hope you'll enjoy using the new features and options! ?