Newspaper 9.8 update brings out a new source of design inspiration. We know how much you love working with pre-made full layouts, so we've crafted twelve cutting-edge demos that make you design your website like a pro.
Whether your site is content-heavy or minimal-based, the brand new demos such as "Life News," "Podcast," "Art Magazine," "Influencer," are ready to give your website a fresh and professional look. Unique features like the right-to-left reading, asymmetrical elements, categories with little icons, vibrant overall colors, or calligraphy font combinations are just a few hacks used by our skilled designers. You'll find all the new demos categorized under the PRO label, in your Newspaper Theme 9.8 dashboard and they are FREE to use for our customers.

In a world where people share their routine, life, beauty, and travel hacks on social media, the Influencer Demo can be a choice to publish amazing content for your audience. With vibrant colors, split images slide, and strong social network integration, you're closer to your fans/followers than ever.
Take your imagination to a different era with this beautiful demo. It uses an overall grayscale palette and sepia-toned photographs of historical events. The History Demo comes with a new magazine cover inspiration and a powerful way of taking offline online. Use the new single post template to highlight your story with a bold title and subtitle.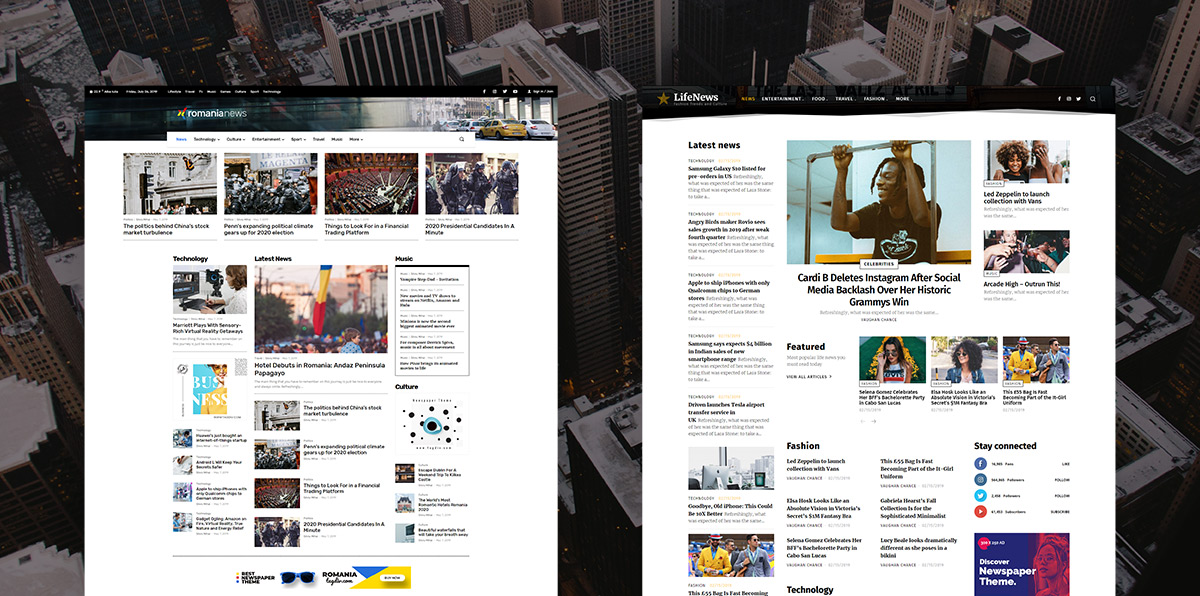 Either LifeNews and RomaniaNews Demos have an online newspaper vibe and are an excellent solution for websites with a lot of content. LifeNews gives you a fresh impression, an interesting author page, and underlined titles on hover. Whereas the RomaniaNews Demo takes a traditional approach, with ad placements, content blocks with 78×78 image thumbnail, and embedded video playlist on the homepage.
This demo is an out-of-the-box solution for web owners looking out to easily create an online playlist. It lets you publish a series of audible files by using a shortcode for audio samples. The Podcast Demo has a modern and lightweight footer design, with an impressive subscription box layout, inviting site's visitors to get your latest episodes via newsletter.
If fashion is your middle name, this demo made using advanced CSS skills will delight you. The website design uses a stylish, purple, blending mode for the images on hover. Wide elements, minimal menu, all create asymmetry, with a bohemian tone. Now, you can take your fashion and photography skills to a new level, and reveal everything to the world using La Mode Demo.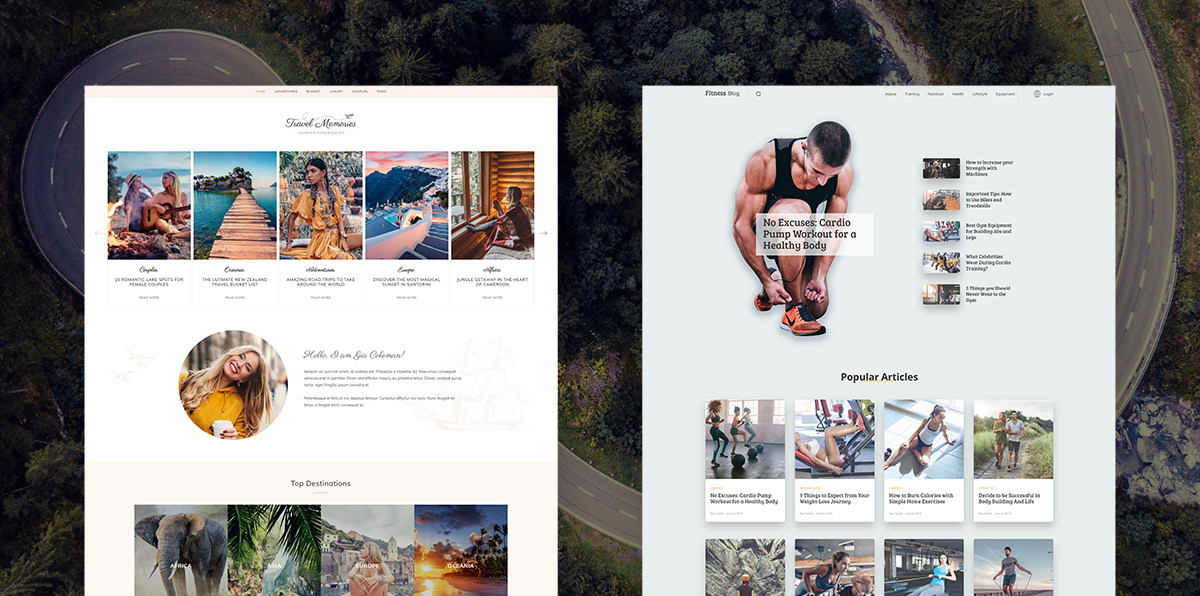 If your hobbies motivate you to build a dedicated website, the new Travel Memories or Fitness Blog Pro Demos can inspire you. In the Travel Memories Demo, you'll be delighted by the calligraphic display font and sans serif blending, which makes the entire website look outstanding. Meanwhile, the Fitness Blog has an entirely gray background, with floating elements, giving your website a 3D aspect.
Are you passionate about animals, birds and their life? Walk into the Kingdom Animalia to discover over 7 million species. Kick start your website with the new Animals Magazine Demo design. Inspired by wildlife, this full demo has a fixed background image that moves as you scroll down, and switches between white & black blocks. With big titles and your amazing photographies, the single post is now more attractive, and vivid.
"Everything you can imagine is real," said Pablo Picasso. The Art Magazine Demo is a balanced layout that combines vertical with horizontal elements. It also smooths things out by using lots of negative space. On the Exhibitions page, there are sticky blocks with different dimensions, alternating the gothic Oswald font with the Alegreya one. Art Magazine keeps a contemporary, dynamic feeling.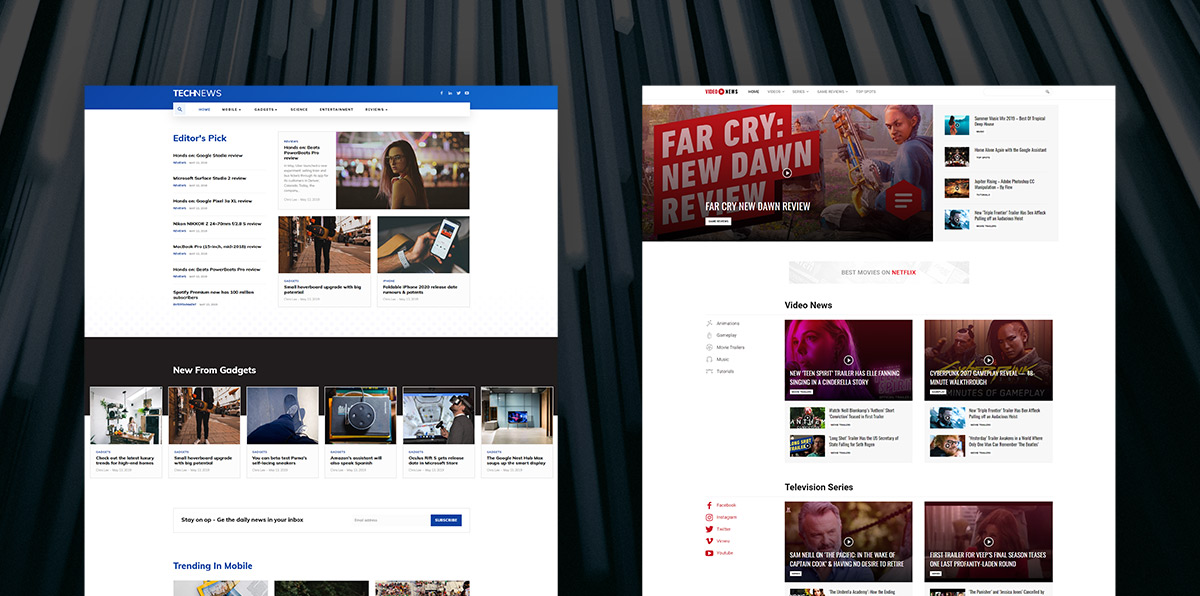 Having interesting content about technology, breaking news events, make you want to offer top stories in a visually appealing way. With a background texture, outlined boxes for a minimal effect, and full-width elements, TechNews is a pro-choice for bloggers publishing amounts of content. The VideoNews Pro is an innovative demo, as it lets you publish all your posts as videos. Even the single post needs video content embedded and suggests related video posts. Also, it has a beautiful mega menu, social icons, ad spaces, and categories using little symbols.
Make Your Site Powerful, Ravishing, Outstanding
Get all the visitors attention by trying these new demos, and deliver pleasant experiences on your website. Whether you're a beginner, or an advanced WordPress user, with the Newspaper theme 9.8 demos, your website is in the spotlight. If you're looking for something different, it's time to make some website tweaks. In a word, the new PRO demos are a great start! From spectacular layouts, exquisite typography to perfect designed boxes, everything is in foolproof balance. Which one is your favorite PRO demo ❤? With this in mind, let us know below, in your comments.