The Newspaper 10.4 update brings you a new tool, functionalities, and optimization features to help you improve the performance and take your website to the next level. We started working on this version with a single idea: we needed to give you the tools to optimize every small detail of your site and help you meet all the Core Web Vitals ranking factors. So we've taken a closer look at our websites & demos and at over 1,000 websites built by you. We have tested them across all the performance ranking tools.
The results showed that there are two ways to improve the theme and help you get top performance. First, you need a tool that can analyze each website for improvements, then you need a simple way to make the pages lighter. So, in the Newspaper 10.4 update we are delighted to introduce to you the tagDiv CSS Analyzer Tool. This new tool is an essential function that helps you get rid of the unnecessary CSS, automatically generates the critical CSS you're using on the website's components and moves the non-critical one at the bottom of the page.  
Double this with multiple style code structure adjustment in the Newspaper Theme and the Core Web Vitals test results, and you'll have all the tools you need to radically change the performance of your website. Furthermore, Newspaper theme 10.4 brings you two new PRO demo designs, you can easily install and tweak on the frontend of your site.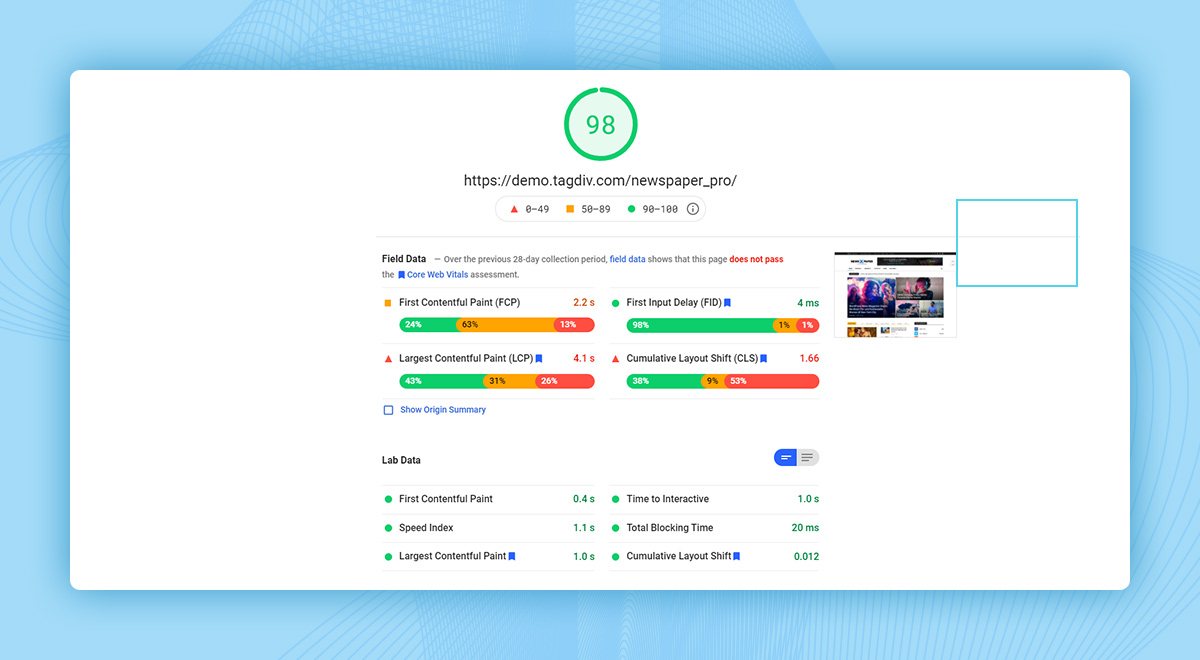 What are Core Web Vitals?
Soon enough, we'll all know everything about the LCP, FID, CLS acronyms. However, what are these, you'll ask? You've seen on thousands of websites the information that Google is adding new metrics to measure the UX quality on websites. In fact, all the situations reported by the Core Web Vitals are meant to give you hints about how your site is performing and how you can improve the site's overall quality so it can rank higher in SERP. LCP comes from Largest Contentful Paint, while FID stands for First Input Delay, and CLS means Cumulative Layout Shift. These three metrics refer to your site's loading, interactivity, as well as visual stability that go beyond the CMS or theme your website is built upon.
These tools are meant to help everyone understand how web vitals and core web vitals measure the website's performance and effectiveness. The Google web dev team advises that "changes to these metrics will have a wide-reaching impact; as such, developers should expect the definitions and thresholds of the Core Web Vitals to be stable, and updates to have prior notice and a predictable, annual cadence." In order to meet all the Core Web Vitals criteria, you have to take a few steps that go beyond the theme you're using or the CMS your site is built upon. For example, the WP Upgrader has explained each of the three Core Web Vitals that refer to how well optimized your server is, amount of CSS and Javascript, resource loading time, including the amount of random image and ads dimensions, web fonts, or dynamic content.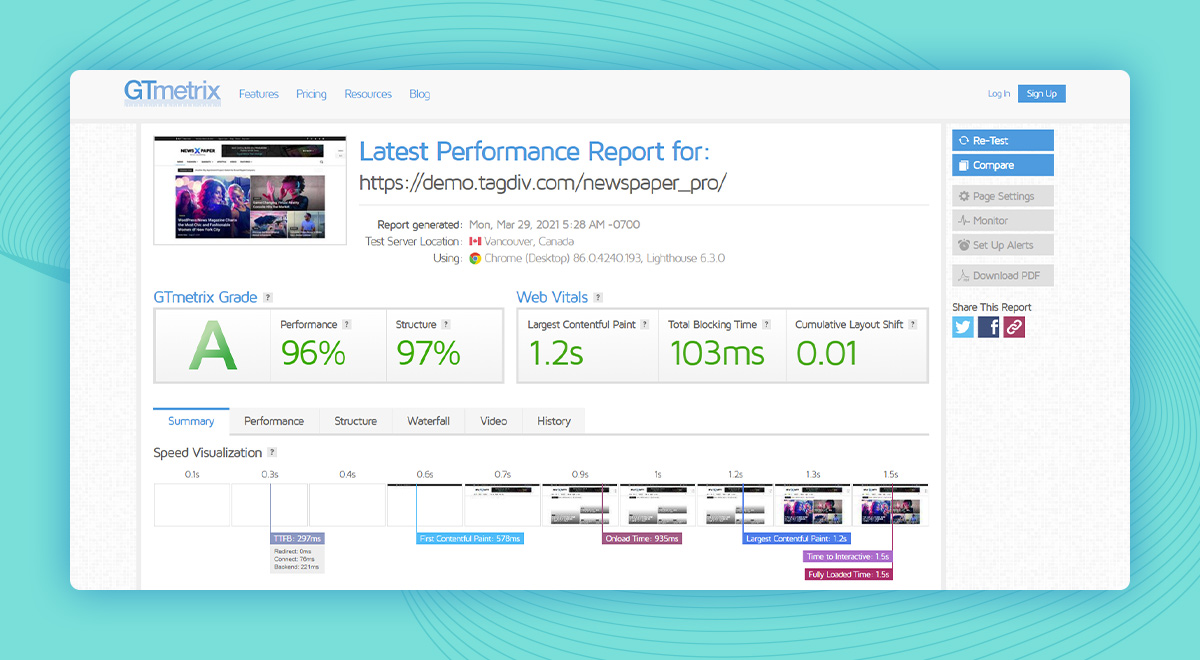 Newspaper Theme for Google Core Web Vitals
There's no news here that every web owner wants to create the most appealing and seamless experience for their users. Everybody wants their websites to be among the top 10 on Google Search Result page. Starting with Newspaper 10.4 update, we've analyzed and changed parts of the code to make the theme even faster and lightweight. For example, we've moved the style on most of the tagDiv Cloud Library elements and templates to make sure that the imported elements have the minimum of the CSS code required for running the components.
We know that to start your online journey means to have the right tools right to begin with. However, if you're already running a website, you should constantly tweak it and keep it up to date. We've made a general theme revision for Core Web Vitals to improve your website's performance, accessibility, and SEO efforts. We know that there will be cases when you'll need to make more revisions to acquire better results and achieve your goals. These revisions go beyond the theme. We've tested the Newspaper PRO demo on Google Page Speed Insights and GTMetrics, and we have scores that range from 96 to 98 out of 100. Even if they all analyze the page's content and provide tips to improve the UX, the results are quite different because they use distinct metrics.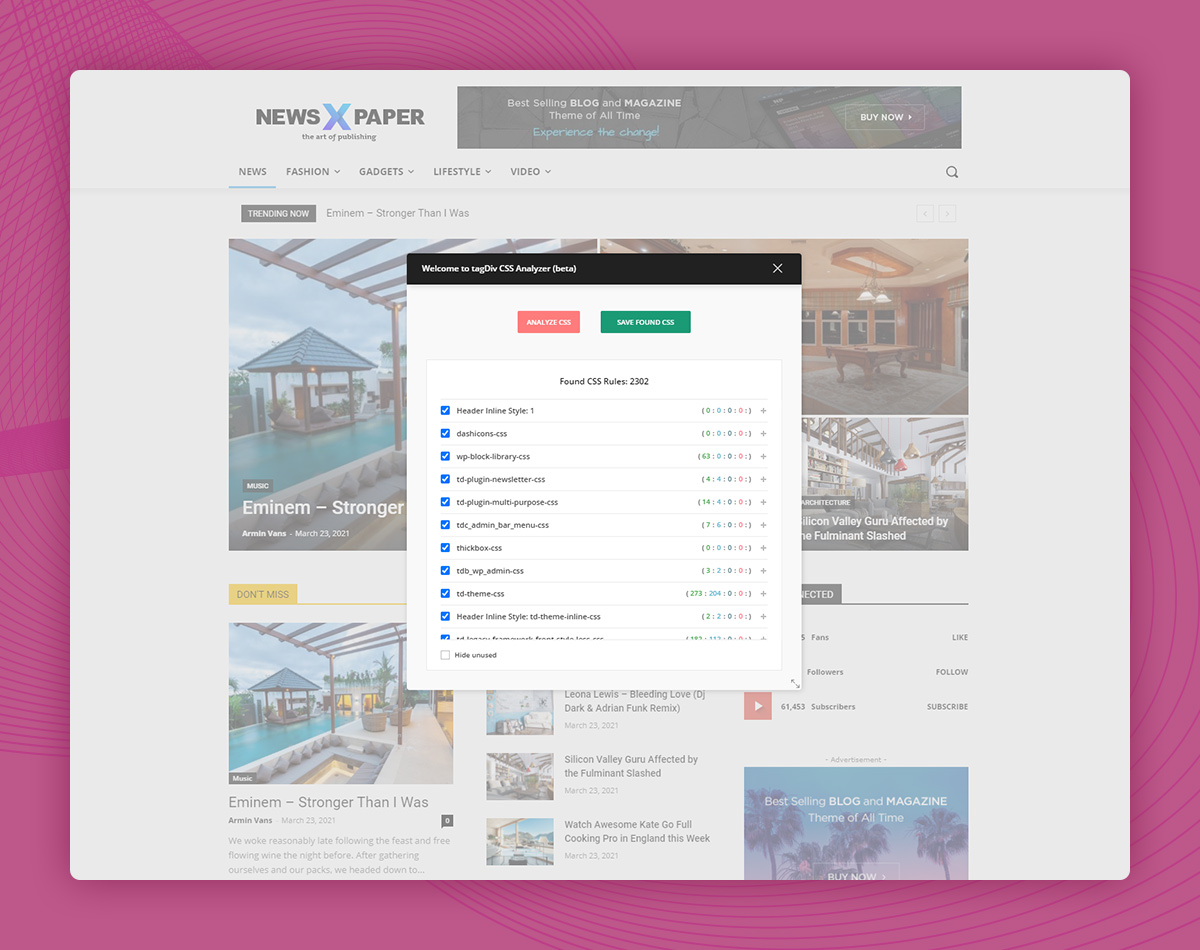 tagDiv CSS Analyzer Tool
We've built a complex tool, for now, in beta version to give you all the means to get significant results. The tagDiv CSS Analyzer Tool works in stages to help you improve the website's page speed and gain better performance. This tool analyzes, optimizes, and removes all the unused CSS from the page. In the first stage, the tagDiv CSS Analyzer Tool removes all the unused CSS from a page, then, from the final clean CSS, it generates the Critical CSS and automatically moves the non-critical one to the bottom of the page.
How the tagDiv CSS Analyzer tool works? 
This custom tool performs an automatic test to find missing CSS rules applied by user interaction. Moreover, you can manually interact with a chosen section/component from the page while the tool records all the involved CSS. It will generate the final CSS file for this page and also will split the rules in Critical CSS to be loaded in the website's header.
To show you how the tagDiv CSS Analyzer works, we ran a few page speed tests on the Newspaper Default PRO demo homepage. You can preview the differences below:

Newspaper 10.3.9 version – no extra plugins – all CSS loaded – size: ~ 580kb
The Newspaper 10.4 version – no extra plugins – all CSS loaded – size: ~ 340kb
Newspaper 10.4 version – no extra plugins – CSS generated by tagDiv CSS Analyzer: size: ~ 145kb
New, Entirely Customizable PRO Demos
In the Newspaper 10.4 update, we've included fresh demos, such as School PRO and City PRO. They are entirely customizable using the frontend tagDiv Composer and the tagDiv Cloud Library plugin.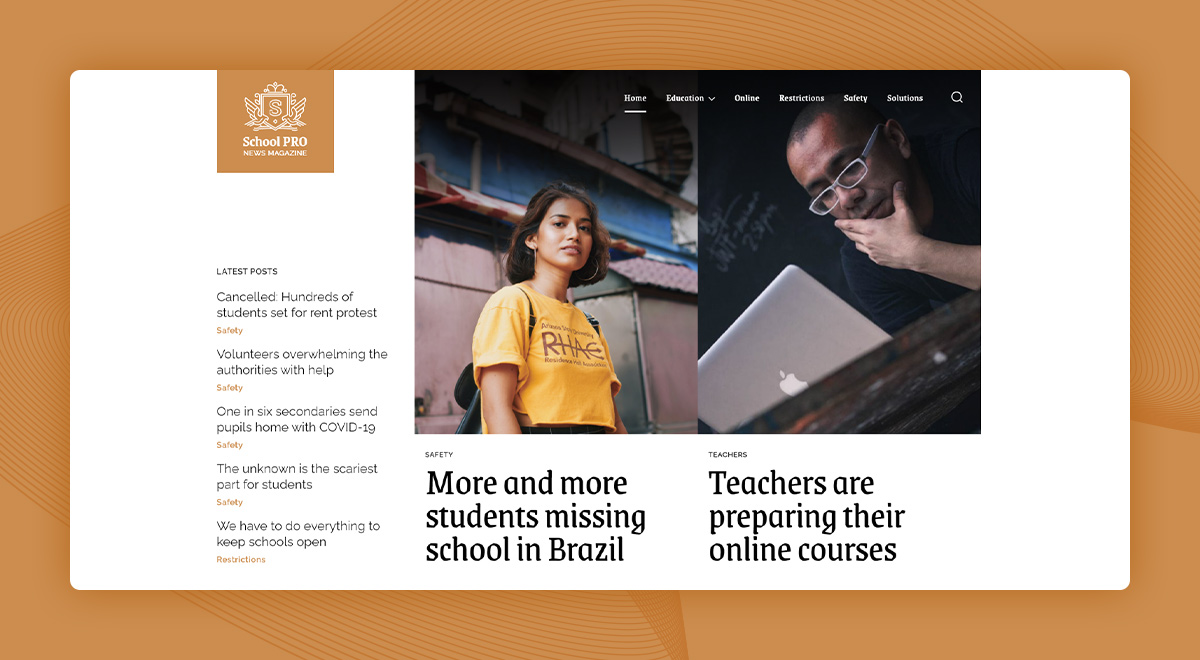 We've specially created the School PRO News Magazine to give universities, schools, and all the educational institutions a new and quick way to build an online presence. It is using a sticky menu and sticky sidebars, flexible blocks. With a unique font used to highlight the titles, the Grenze font is one used in magazines and is "a hybrid development between Roman and Blackletter styles, in search of combining the impact and attraction of texture with the readability of classical forms." This beautiful yet simple layout includes a mega menu with pagination and stylish category pages. The demo was specially designed for educational purposes, so you can add many posts and easily navigate through the platform.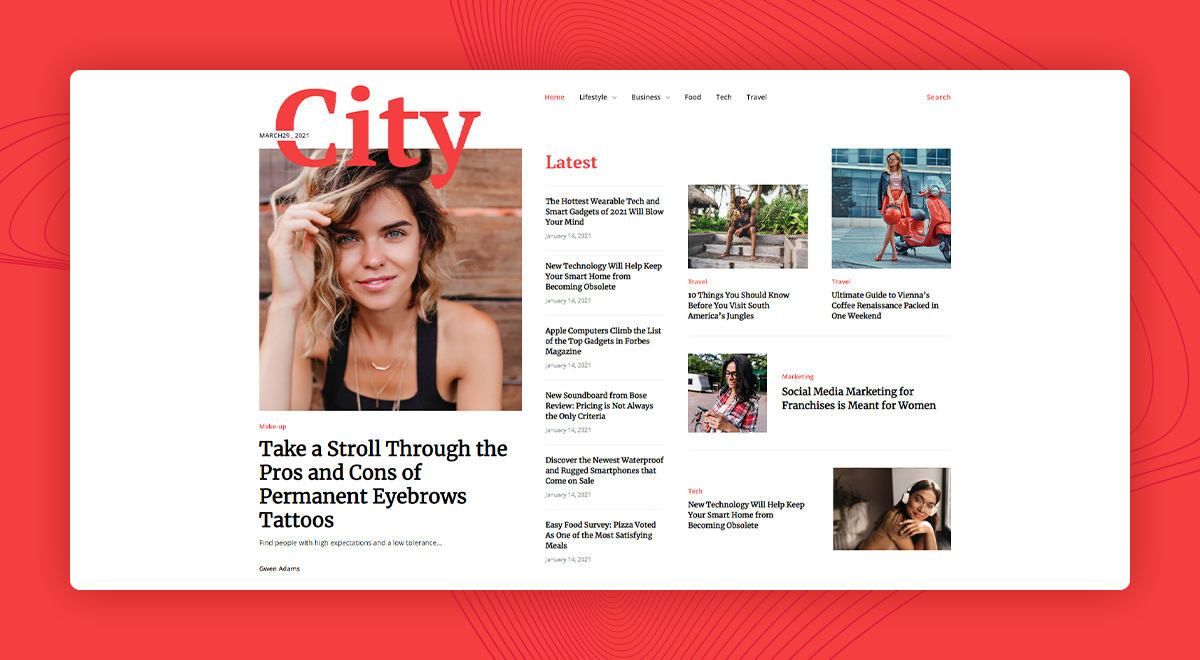 This new PRO demo is beautiful and can you can use it on any kind of website, including a lifestyle magazine or a travel blog. It can also be a perfect option for an urban community website due to its stylish design and easy-to-navigate information for residents, visitors, as well as local businesses. With red and black contrasting colors and white background, the City PRO demo uses wide layouts and a one-of-a-kind footer divided into two rows and containing three columns. The megamenu is amazingly crafted with medium image thumbs and subcategories, as well as pagination. This ensures easy navigation through the site. Moreover, the post template is using a left sidebar, a large featured image, tags, ads placement.
Conclusion
The Newspaper 10.4 update is a huge step to make your website Core Web Vitals metrics friendly. As Google has announced that the web vitals metrics are an on-going process and that with time, there will be a lot of changes. Moreover, when Core Web Vitals metrics will become an official ranking factor, they might influence your Search Optimization Page performance. We will always keep up with Google's initiatives to create a better web. We'll spare no effort in analyzing and finding solutions that help you get the most out of your websites.
Starting with the Newspaper theme 10.4 version, with some automated processes, you'll still need to analyze each page and make the small changes necessary to pass the Lighthouse tests. We will continue to improve the tools and give you even more power to customize and optimize every aspect of your website. These tools are meant to help you improve the User Experience without cluttering the website with unnecessary elements and coding lines.