We're excited to announce that the Newspaper theme is RTL ready! Newspaper 11.4.3 brings seven fresh pre-built websites for news and magazines, as well as a unique RTL-ready full site design for multilingual usage.
The Newspaper theme by tagDiv also changes the way you manage your theme license key. Now, it's easier to choose the domain where you want to use your Newspaper license and quickly assign it.
Moreover, to give you complete tools for your membership websites, we've implemented the Stripe payment method within the tagDiv Opt-In Builder. Once you update your theme to the latest version, the paywall plugin will be automatically updated, and you can add Stripe as a new way for members to pay and access your services or exclusive content.
Don't forget this! Before updating your Newspaper theme to the latest version, we strongly recommend you backup your site. After it's done, go to the Newspaper Dashboard Panel and select the Updates tab. Then, click on the available update, and the installation process automatically begins.
So, what's new in the Newspaper 11.4.3 update?
The Newspaper theme comes with seven new pre-built full demo websites, RTL support, Facebook social login for several areas, and Stripe integration with the tagDiv Opt-In Builder.
Fresh Pre-built Websites for New Inspiration
The Newspaper theme comes with seven new one-click installable pre-built full websites (demos).
They are all entirely created using the tagDiv Cloud Library of templates, tagDiv Composer page builder, and the tagDiv Opt-in Builder membership plugin.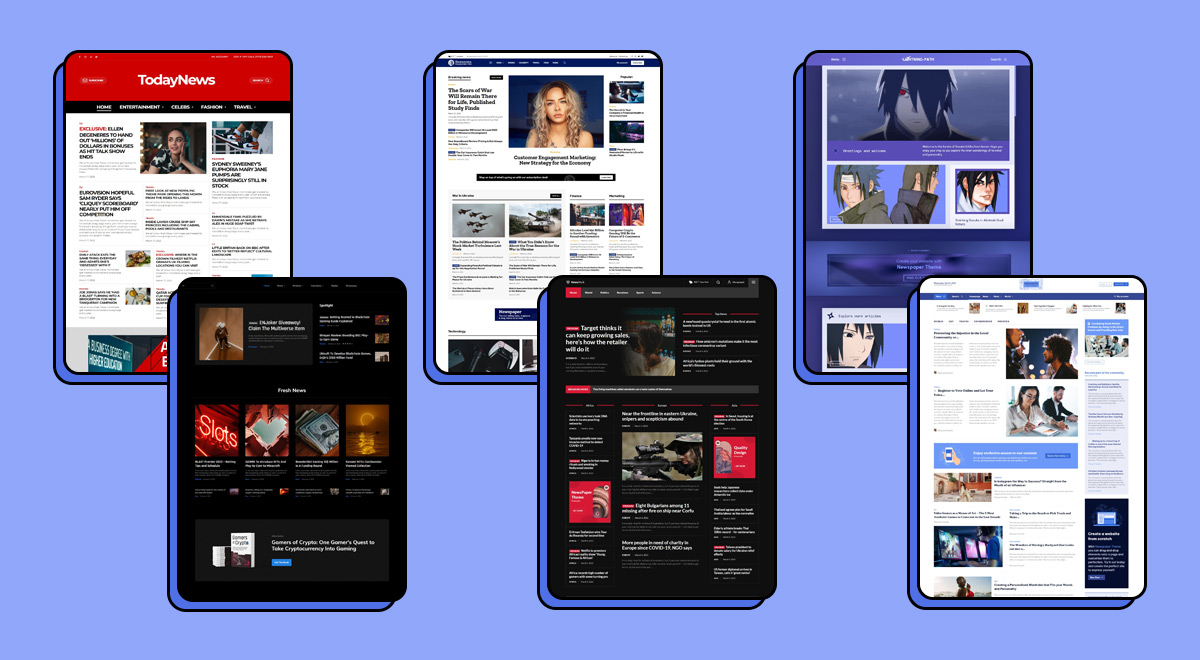 Today News PRO feels like a classic online magazine, but it is combined with modern and full-width elements. In addition, the Montserrat fonts highlight the beauty of every letter neatly to emphasize the importance of texts.
With red, gray, and black tones, this one-of-a-kind prebuilt website integrates the infinite loading feature right on the homepage. By pushing the Load More button, more content loads.
The Downtown prebuilt website can be a perfect fit for any financial, entertainment, or tech platform. The layout is created upon 2 or 3 columns and classic pagination.
It catches the eye of the reader with impressive blocks, soft colors, and a stunning mega menu with big icons and bold titles.
If you're all into anime and manga characters and want to develop an impressive animation website, the Lightning-Path prebuilt design is all you need. The Azeret Mono typeface is a futuristic font that evokes the personality of an anime-designed website.

The Lightning-Path demo is visually built on Pantone color of the year – Very Peri, with blue and purple shades. This unique pre-built website includes all the elements in fixed containers, and the menu is a one-of-a-kind hamburger design.
Crypto Gaming is a membership pre-built website with a dark layout, rounded-corner flex blocks, and a minimal look with comprehensive information on the footer sections.
These websites showcase plenty of content, so it's nice to navigate continuously. In addition, Crypto Gaming has the infinite loading feature built right on the homepage and a sticky sidebar with a rating system on the single post template.
With the News Hub pre-built site, you can quickly build a complete newspaper portal for any news-related website. If you're a dark layout enthusiast, this demo design will definitely grab your attention.
News Hub uses black as a background color, red for color accents and hovers, while white and grays emphasize the font appearance. As an exclusive newspaper website, the News Hub prebuilt website is built with tagDiv Composer page builder and tagDiv Opt-In Builder for paywall functionality.
Amsonia PRO is a delightful prebuilt website that can be a source of inspiration for wide layouts with mixed purple shades. In addition, this design can be home to various websites such as technology, style or medical magazine, worldwide news, community blog, and others.
It is built on a two-column layout and a right sidebar that is not sticky on the homepage or single post templates. The mega-menu contains "Next" – "Previous" buttons to easily navigate categories and articles.
Newspaper WordPress Theme is RTL Ready
The Newspaper theme was always compatible with RTL websites but needed advanced customization skills to change the code to meet the right to left language requirements. With so many requests, we've decided to improve the RTL functionality and provide better support for these languages.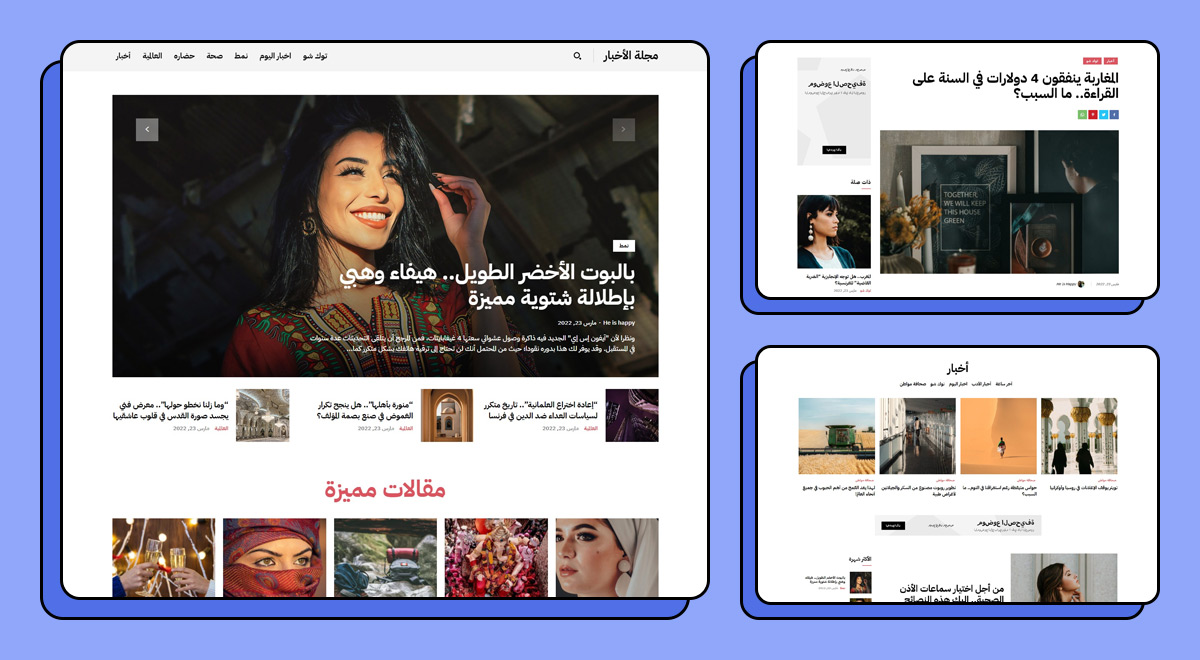 Our designers crafted a unique News Magazine that uses the right to left language for a great RTL start. If you have an international audience and want to build an RTL language-optimized website, the Newspaper theme is ready to power up your user experience.
With an easy-to-navigate interface, you can access global audiences by creating content in Hebrew, Arabic, Farsi, Urdu, and others. You can easily combine the Newspaper Theme and the enhanced RTL support with the powerful WPML plugin for more functionality and outstanding capabilities.
RTL News Magazine is an elegant yet straightforward pre-built website that has been built with a wide layout, flex block elements, stylish excerpts, numbered pagination, and sticky left sidebars. The header and footer areas are minimal, designed on gray backgrounds. The single post template uses the infinite post loading functionality, and each article contains a bold title, sharing buttons, squared featured image, tags, and author box.
In this beautiful right to left design, duotones combine cool to warm shades and vivid colors to highlight hover effects on various elements.
The RTL News Magazine demo uses an international font family called IBM Plex Sans Arabic, initially created to "illustrate the unique relationship between mankind and machine."
Facebook Login/Register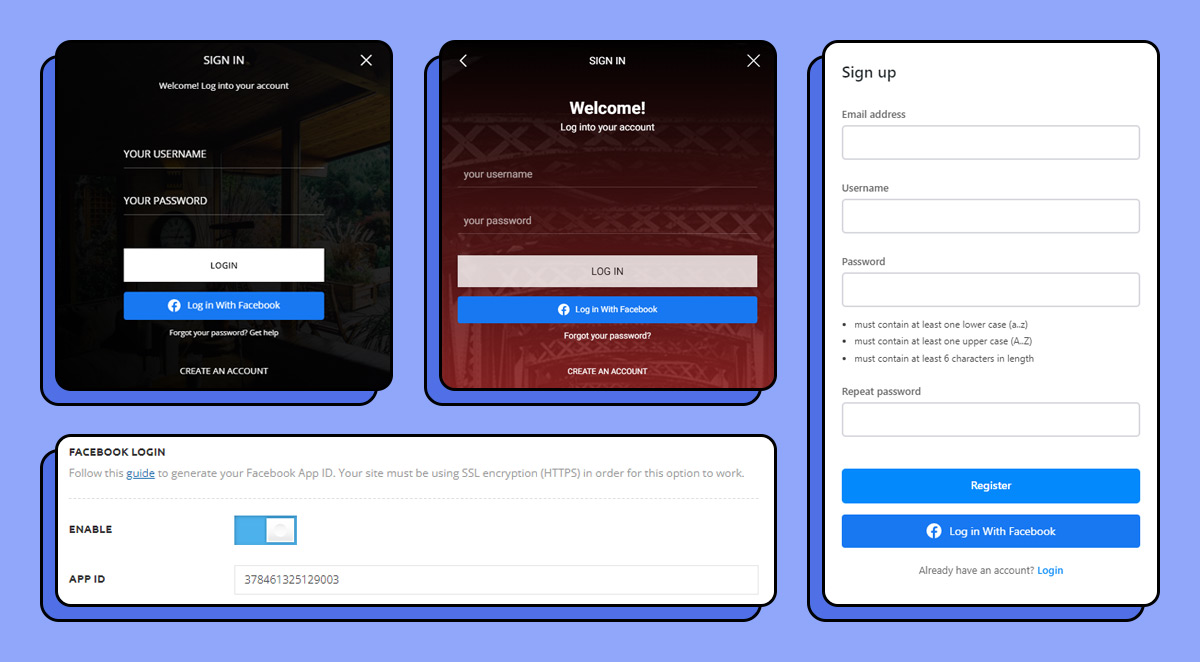 What is a website without social media integration? People enjoy swiping from Facebook to blogs that they currently read. The new Facebook Login/Register option has been added to the Newspaper theme to help your readers log into your website in a secure and fast environment. There are three areas where you can add the Facebook login, respectively:
Mobile Menu
Login modal
tagDiv Opt-In Builder login
Stripe Payment Integration with the Newspaper theme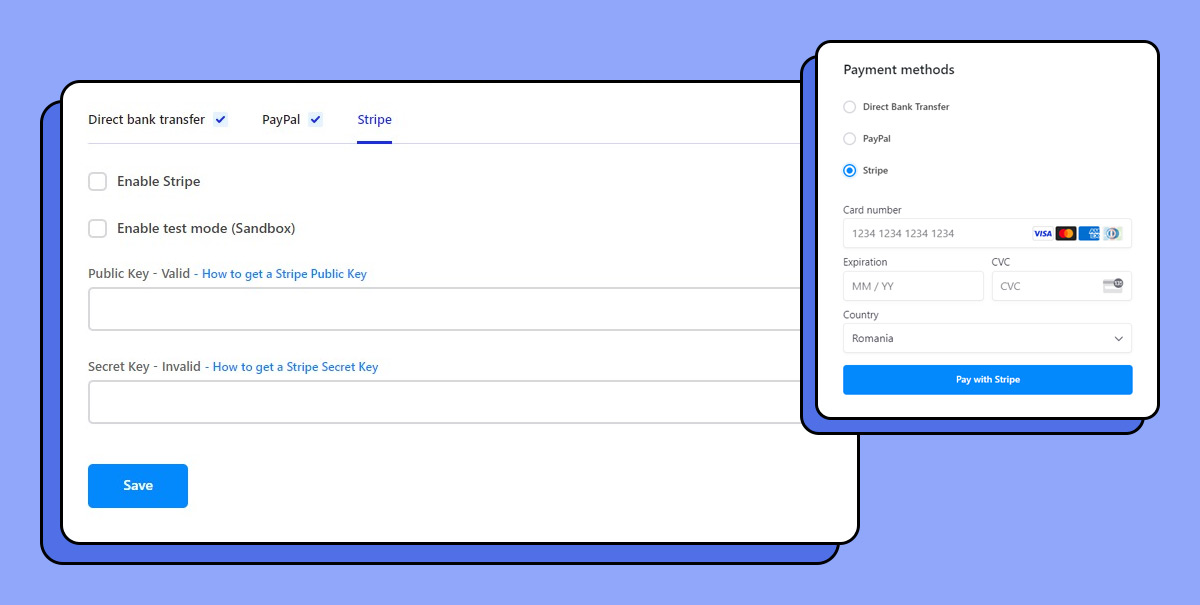 Starting with tagDiv Opt-In Builder plugin version 1.3, you can include Stripe as a payment method along with PayPal and Direct payments. If you want to know how to use this payment option, please follow the steps from the Stripe setup documentation.
License Management System
What is the License Management System in the Newspaper theme? It is an area in your site's backend that holds a dedicated section showcasing all your owned domains, where you can assign your theme license key.

This means that from this section, you can quickly assign your key to a specific domain of your choice and access all the theme features. In addition, the new management system lets you manage where your Newspaper theme license is used on your domains.
Build Your New RTL Multi-language Website with Newspaper!
With Newspaper 11.4.3, you have even more capabilities to build, redesign, or customize your blog, magazine, membership, or RTL-ready website. If you've just discovered tagDiv and the Newspaper theme and haven't worked with our template yet, you can buy your first Newspaper theme license and design your first site without any hassle. Just mix, match, and have fun creating your website!